The Ferbo Rain range is brought to the UK market by Newsholme Engineering Ltd in collaboration with Ferbo S.r.l. who pioneered the manufacture of turbine driven hose-reel irrigation machines in the 1970's and now produce highly efficient and economic machines with hose sizes ranging from 40mm to 160mm in diameter and up to 750 metres in length. As they are built on the same platform as the more recent Wright Rain Rainmaker and Idrofoglia hose reels, spare parts are common across the marquees.
Komet Twin/Plus vari-angle rainguns, for superior performance in windy conditions, are supplied as supplied as standard with NewEng FerboRain hose reel irrigators and are available for retro fitting to older makes of hose reel
Replacement Nelson "Big Guns", fitted as standard to older models of hose reel irrigator, are available as new, we also stock spare parts for refurbishment and repair.
Hose reel mounted spray booms are available for more precise irrigation of more delicate crops and soil types where required.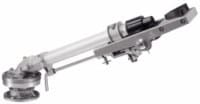 1, 2 & 3 cylinder air and water cooled diesel engine pump units
4 & 6 cylinder, normally aspirated and turbo, water cooled diesel engine pump units, fuel tank with integrated bund and mesh guards
Acoustically enclosed 4 and 6 cylinder, normally aspirated and turbo, water cooled diesel engine pump units, fuel tank with integrated bund
Diesel engine pump units, with or without integrated & bunded fuel tanks, mounted on fabricated steel base frames for permanent installation or uplift by loader forks
Refurbishment of existing diesel engine pump units, mounting of new & used engines & pumps on new fuel tanks with integrated bund
Tractor PTO driven pump units mounted on wheeled trolleys or 3 point linkage lifting frames
Manual & electric priming pumps and suction pipe  assemblies
Semi automatic pump priming by engine exhaust
Rovatti and Caprari bareshaft and SAE flanged flywheel housing pumps
Newsholme Engineering specialise in the supply, installation and service of electric pumping systems from reservoirs, rivers and boreholes. We offer a turnkey package from design through to commissioning, including workshop and on-site fabrication of pipework and fittings.
Borehole pumping systems typically range from less than 1kW to over 90kW although bigger models are available as required. Drilling the correct size and depth of borehole is critical to maximise the likelihood of obtaining the required water yield and depends on the local hydrogeology. Independent advice is available to assist with borehole design and meeting the regulatory requirements of the Environment Agency. Horizontal and vertical multistage pumping systems are available, with submersible pumps if necessary, for water abstraction from reservoirs and rivers.
Portable overground pipes and fittings of all sizes are available in aluminium and galvanised steel, with couplers to suit Wright Rain, Javelin, Irrifrance, Bauer, Perrot and other types.
Non standard fittings are also produced to our customers specific requirements in our own workshop.
We undertake initial site surveys, design, supply, installation and commissioning of new underground distibution mains and extensions to existing systems in PVC and PE pipe, including fabricated steel hydrant risers, road, river and bridge crossings. Materials and advice are also available to customers wishing to self install.
Steel hydrant risers are fabricated to suit individual requirements with 3", 4" or 5" Wright Rain or Javelin/Irrifrance type hydrant tops. Quick compression couplers are used to connect older imperial or metric PVC pipe to steel, which are tightened up with bolts on the top of the coupler rather than on the ends as on traditional VJ couplers. This makes fitting, and removal, quicker and easier.
[Read more]
Electric pumping systems are normally designed to start and stop automatically on demand. The recent adoption of variable speed drives adjusts the motor/pump speed automatically to provide the required delivery pressure as the demand for flow varies. This can save considerable amounts of electricity, and money, by limiting the current on starting and when running at less than the full capacity of the pumping system. Additionally, the cost of such energy efficient installations may qualify for 100% capital allowance under the ECA Scheme
The speed of a diesel engine pump unit can also be controlled automatically to provide a constant delivery pressure as the demand for flow varies. Traditionally this has been achieved using an F W Murphy diagnostic control panel, high/low pressure switchgauge and a throttle control actuator.
Newsholme Engineering have more than 30 years experience of supplying and servicing various brands of hose reel irrigators including:-
Ferbo Rain, Idrofoglia, Wright Rain Rainmaker
Touraine and Super Touraine Mk 1 & 2
Farrow, Waldhauser, Nerthus
Javelin, Irrifrance
Perrot
Bauer
Kaskad